Click on the text below the icon to download document.  Size of the document is listed also.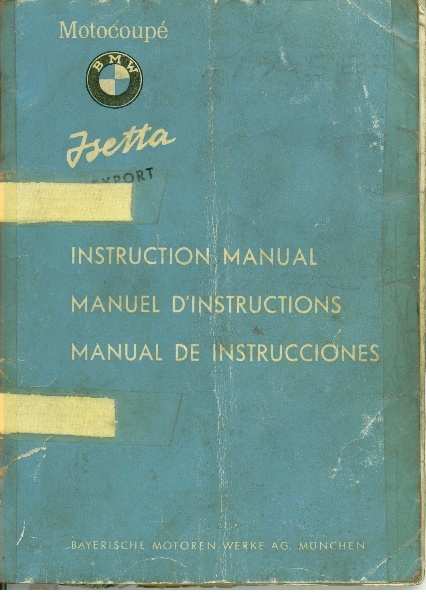 This document is a 36 page English only version of the original handbook for Isetta owners.  The text was taken from the original booklet given to my father when he purchased the white Isetta shown on the home page of this web site. 

The English text was scanned, and converted to a Word file.  The photographs on each page were also scanned and placed on the appropriate page. The original German translation was not altered except for the correction of several misspelled words and a few reference errors.  The document can be printed on 8-1/2" x 11" paper.

Click the image below to Download the file.

Information on tools you can build or purchase for your restoration project.

Exploded parts views and electrical diagrams for the 300

Each image will open in a separate window.  You may right click the mouse to save to your hard drive for future reference.  Each of the diagrams are approximately 150kb in size, so depending on your connection speed, it could take a couple of minutes to load.

Interesting Information for the 300

I will put here some tips or other interesting information for the 300.

Maintenance Manual Sections:                                Parts Manual Sections: